FionaFei — Artist, Photographer, Explorer
Wo Men Dakai (Shui Mo Art Gallery)
Interactive Art Installation and Performance Art
Wo Men Dakai (Chinese for "My Door Opens") is an art installation I've created in the style of Chinese ink brush painting. While originally intended to be a stand-alone art piece, it is now also a gallery space known as "Shui Mo" to house my other artworks.
The original purpose of this space was for a roleplay Firefly-based RP where my RP character YiLi graduates into a Registered Companion. However, the inspiration for the creation is from my own personal artistic journey in real life and in second life, and most of it really stems from who I am as an artist in both realities.
Role

Creator, Artist
For

Dreams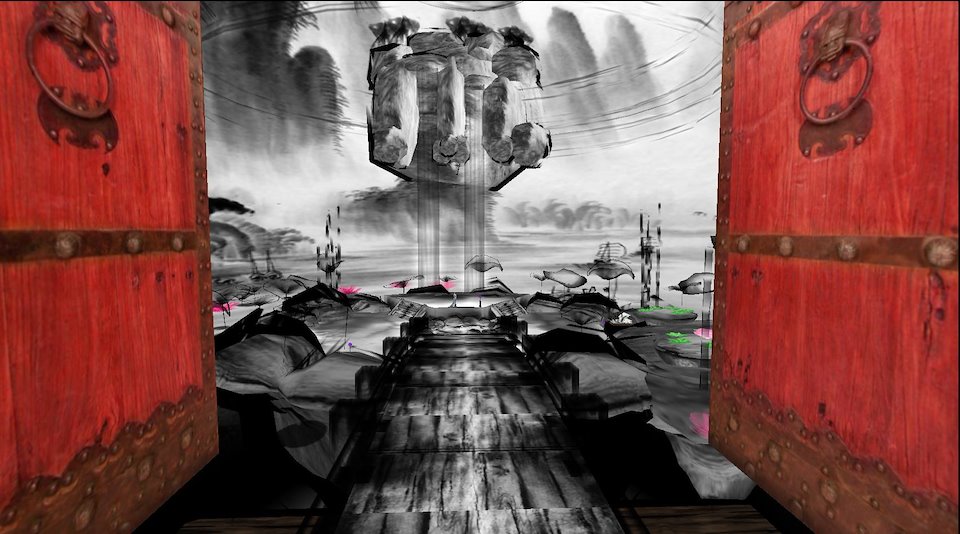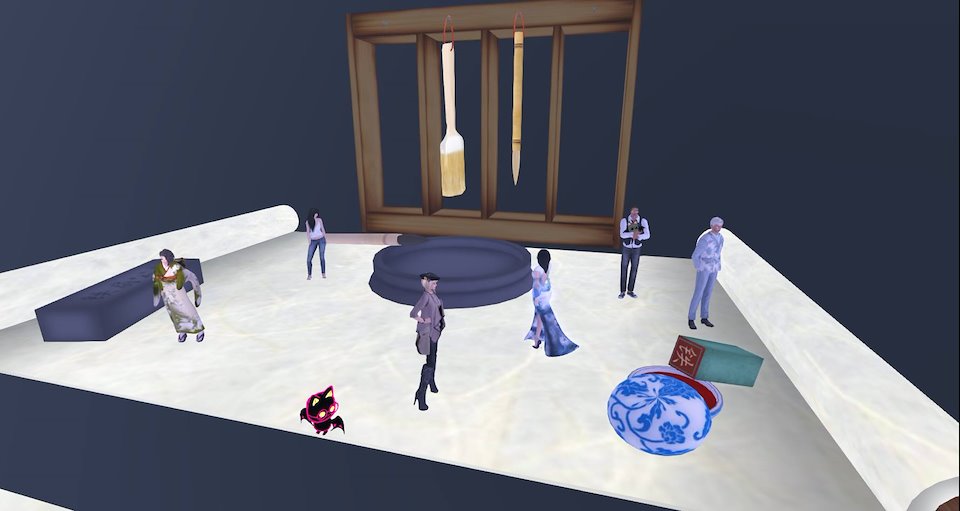 This is the entrance to the installation. Visitors land on the giant ink platform, surrounded by traditional Chinese writing utensils.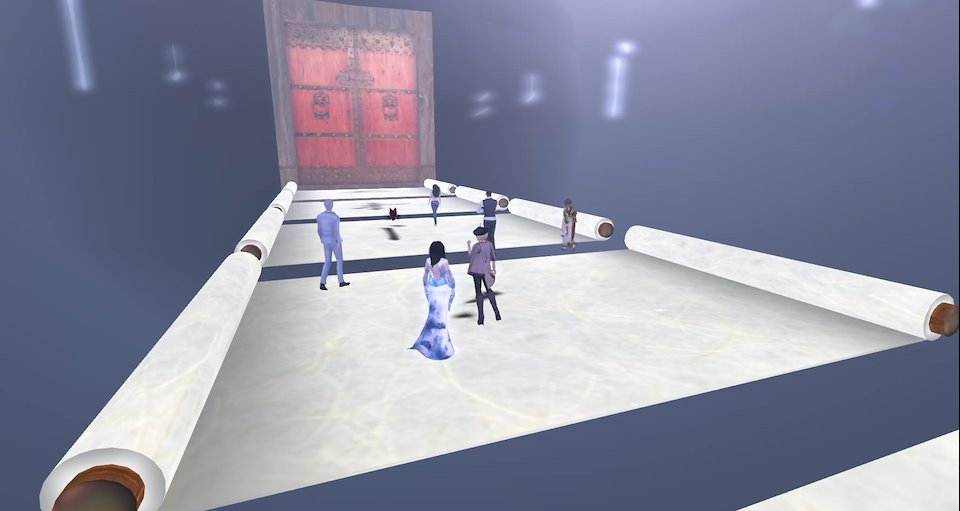 To get to the actual installation, visitors walk through animated scrolls that write out the Chinese characters "wo men da kai" (Chinese for "my door opens"), leading up to a literal door.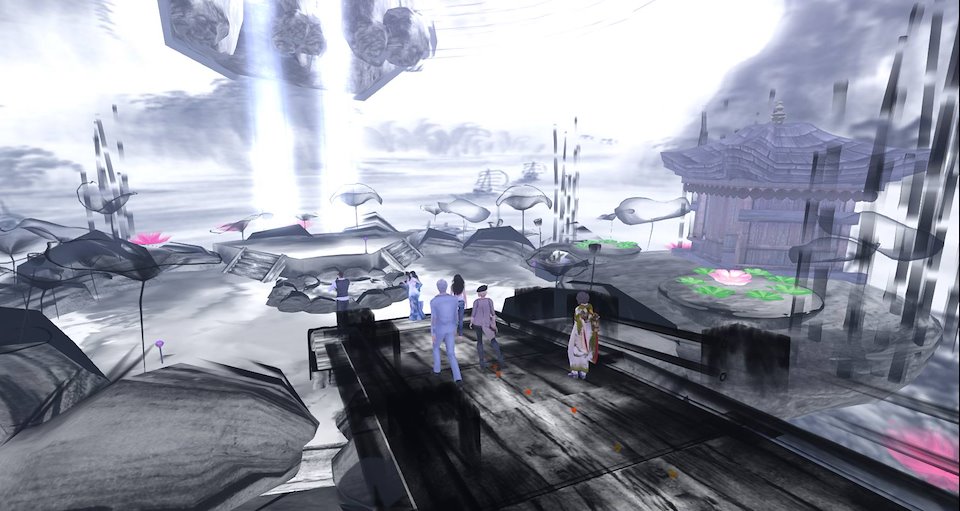 Upon going through the big red doors, the visitors are immersed in a world of Chinese ink painting. The only drops of color are the water lilies scattered around the area and the visitors themselves.
The Visitors Become the Art:
I had a surprise for visitors, which was an invisible water lily they had to wear upon entering. During the surprise reveal, I "turned off" the lights, where all objects in the environment turned black. The waterlilies blossomed on top of the visitor's heads, which was my way to incorporate each visitor into the artwork. The visitors were asked to move around, where their placement only adds to the "painting" we were creating together.

All objects are set to black except for the rocks around us. Here is a bird's eye view of the scene, where water lily leaves start to appear above everyone's heads. It was magical.

The surprise is beginning to reveal itself with the budding water lilies.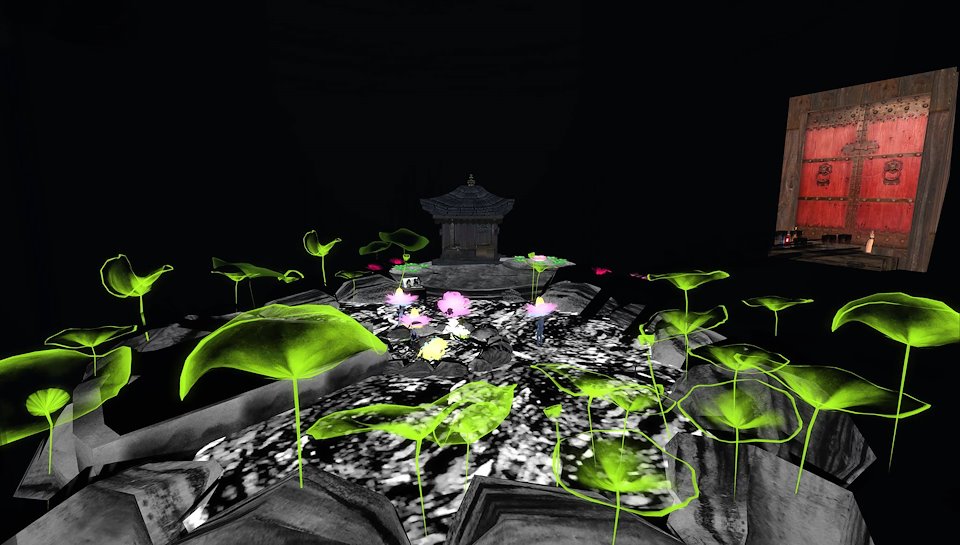 Animated brush-like ripples surrounded the scene and we all danced in the water.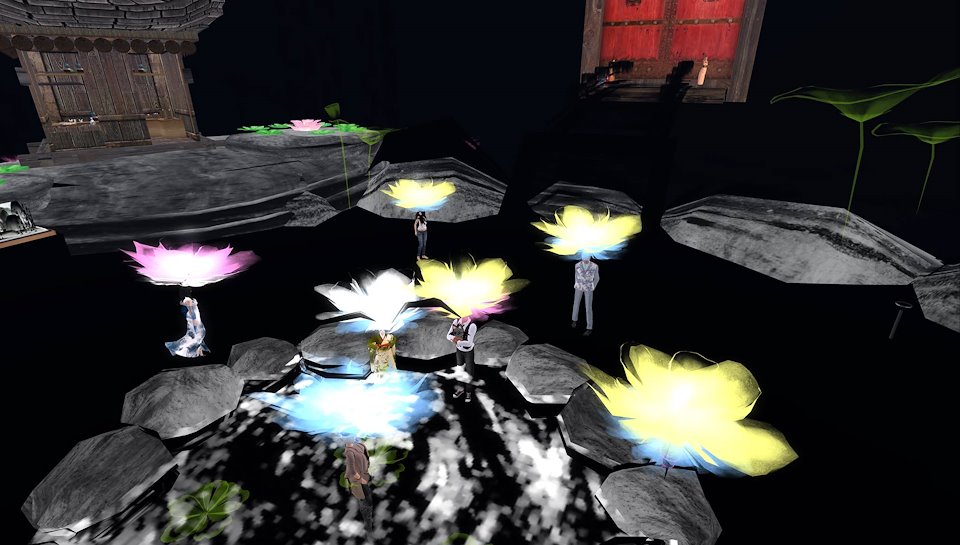 Water lilies emitted different colors, give each person a unique blossom.
Previous
Umbrella Landscape
Next
Rising